Brunei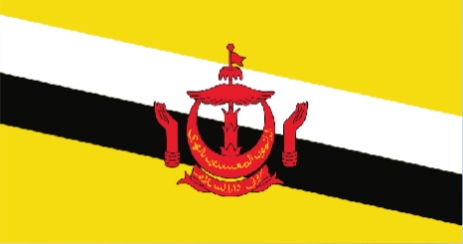 National Flag
Brunei Darussalam, (pronounced / bru:'nar/in English) officially the State of Brunei, (Abode of Peace) is a country located on the north coast of the island of Borneo, in Southeast Asia. Apart from its coastline with the South China sea it is completely surrounded by the state of Sarawak, Malaysia, and in fact it is separated into two parts by Limbang, which is part of Sarawak. Brunei, the remnant of a very powerful sultanate, regained its independence from the United Kingdom on 1 January 1984.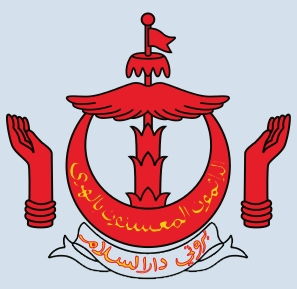 Emblem
Profile:
Official Name - State of Brunei (Abode of Peace)
Nationality - Bruneian
Chief City - Bandar Seri Begawan
Location - Southeast Asia
Population - 381, 371 (Estimate in July 2008)
Area - 5,765 km2 (172nd)
Official Languages - Malay
Government - Islamic Absolute Monarchy
Currency - Brunei dollar (BND)
Independence - 1st January 1984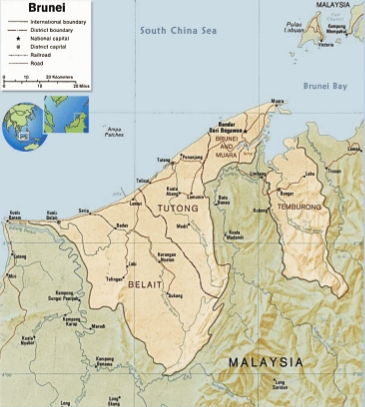 Map
---
national anthem
Transliteration from Jawi script
Ya Allah lanjutkanlah Usia
Kebawah Duli Yang Maha Mulia
Adil berdaulat menaungi nusa
Memimpin rakyat kekal bahagia
Hidup sentosa Negara dan Sultan
Ilahi selamatkan Brunei Darussalam

TRANSLATION
God Bless His Majesty
With A Long Life
(May he) Rule the Realm Justly and in Majesty
And Lead Our People (into)
Eternal Happiness
(May) The Kingdom and Sultan Live in Peace
Lord, Save Brunei, The Abode of Peace

climate
Bandar Seri Begawan has a humid subtropical climate. The average annual temperature is 23.6 0C (74.5 0F), with a summer average of 29.4 0C (84.9 0F) and a winter average of 21.0 0C (69.8 0F).
geography
Brunei Darussalam consists of two unconnected parts with a total area of 2,226 sq. miles (5,796 sq. kilometers).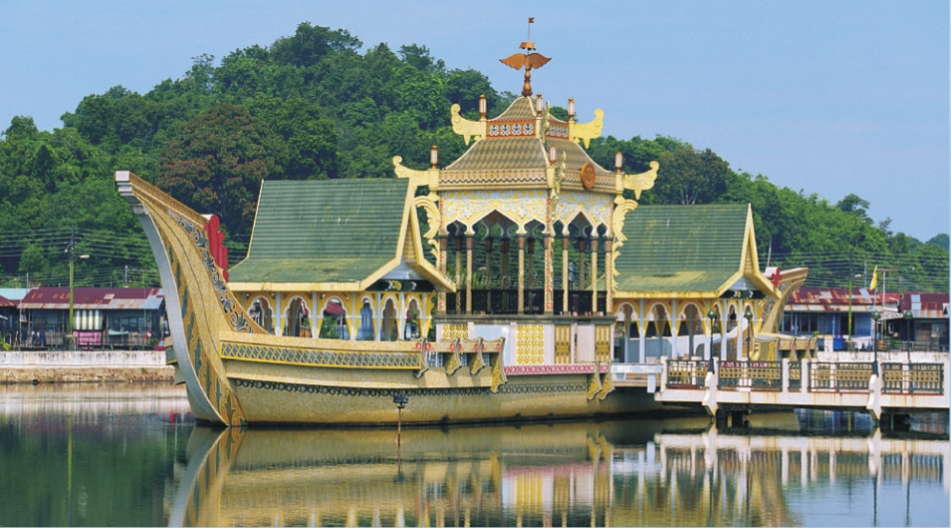 Ornamental Island in the lake at the Omar Ali Saifuddin Msque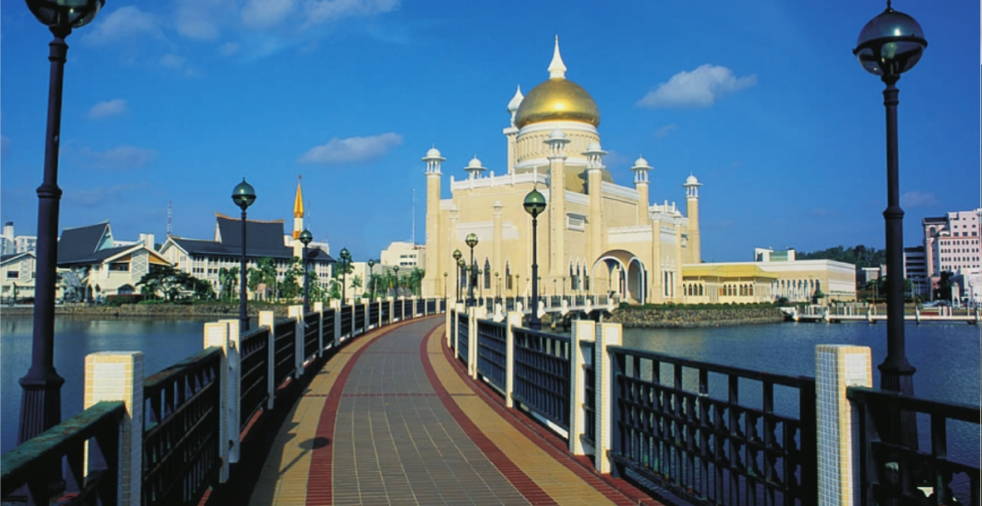 Omar Ali Saifuddin Mosque in Brunei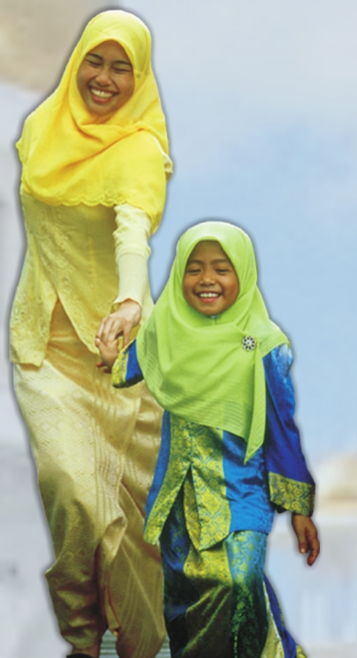 economy
This small, wealthy economy is a mixture of foreign and domestic entrepreneurship, government regulation, welfare measures, and village tradition. Crude oil and natural gas production account for nearly half of its GDP.
people
Islam is the official religion of Brunei at 67% and the sultan is the head of religion in the country. Other faiths practiced are Buddhism 13% (mainly by the Chinese), 10% Christianity, and some communities, indigenous religions.
culture
Many Muslim women in Brunei, wear traditional clothing long skirts and long- sleeved blouses. About two-thirds of Brunei's people are Malays, and most are Muslim-followers of the Islam faith.
Brunei Darussalam is richly endowed with cultural heritage which over generations has been ingrained as one of the richest traditional culture in the Malay world. Brunei was renowned for such as boat making, silver-smithing, bronze tooling, cloth weaving as well as mat and basket weaving and Malay weaponry, wood carvings, traditional games, traditional musical instruments, 'silat' (the traditional art of self defense) and decorative items for women. Some of these are kept in the Brunei Museum and the Malay Technology Museum.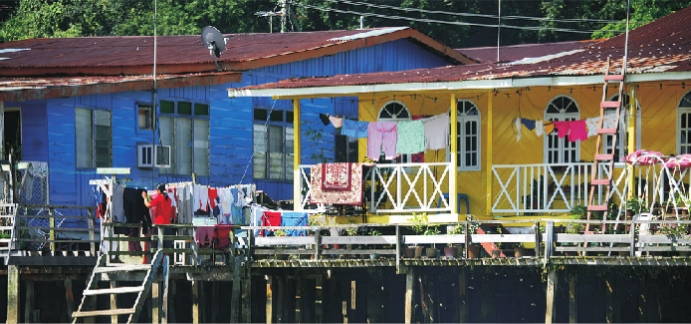 Houses on Stilt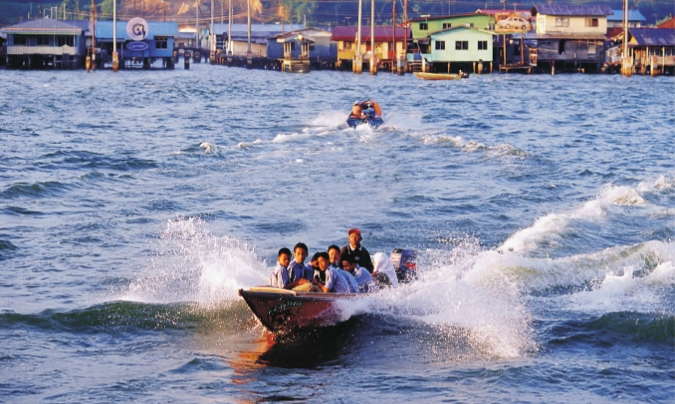 Water taxies shuttle between Kampong Ayer and Bandar Seri Begawan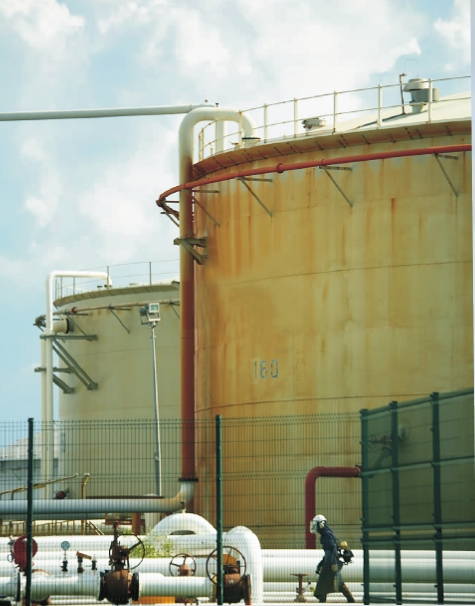 Oil Refinery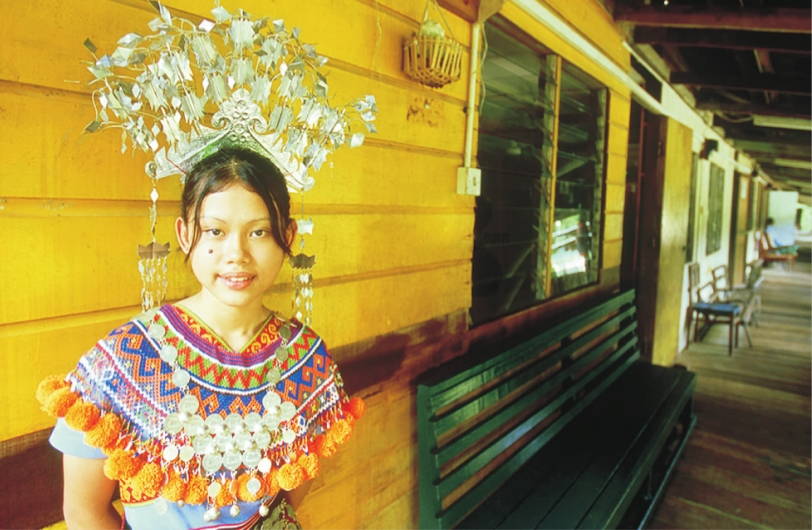 Woman in traditional costume outside Brunei longhouse