A world apart!
This 1800 sq. space has almost come alive with history, art and culture. As you enter, the beautiful montage of colours, shapes, sizes and expressions grips you. There are large cut outs of Masai from Kenya, Father of Nation Mahatma Gandhi, Gautam Buddha, dancers from Bhutan and South Korea, children from Ladakh and many more. The sections are arranged continent wise. Beginning with African Continent, the museum spreads into Middle East, North East and then South East Continent.
Each section has an array of artifacts, currency, national costumes and panels. Each panel elaborates detailed profile of the country, its location, history, culture, sports, national anthem and languages. User friendly touch screen facility is an added advantage. The museum also provides information about the history of Symbiosis through a series of photographs. We have plans to incorporate audio-video clips to enhance the profile of each and every country.
Amazing Africa
Africa is the kaleidoscope of traditions and cultures. The African section in the museum is exotic and full of the symbols that reflect the amazing heritage of Angola, Burundi, Cameroon, Congo, Ethiopia, Eritrea, Ghana, Ivory Coast, Libya, Mauritius, Mozambique, Nigeria, Somalia, South Africa, Sudan, Tanzania, Uganda, Zambia and Botswana. Some countries in the African continent are distinctly unique, each having a persona of its own.
Ethiopia is renowned as Lalibela, a city carved out of rock. Its metal work is matchless and the baskets of Hara and Agilgil leather covered baskets are elegant. It's interesting to know that coffee originated in the Ethiopian province of Kaffa. Djibouti is small country on the eastern coast of Africa. It acts as a transit port and an international trans-shipment and fueling between Eritrea and Somalia.
Eritrea, known as the Horn of Africa, is bisected by world's longest mountain ranges The Great Rift Valley. It has a vibrant and lively culture. People dress in traditional white coloured dresses and relish their favourite main dish Cambuulo. Kenya, named after Mount Kenya, boasts of the 'Big Five' animals of Africa, namely the Lion, Leopard, Buffalo, Rhinoceros and Elephant. Kenya has the superb Mesai Mara where Blue Wildbeast go on a large scale annual migration. The country has a legacy of runners who have brought honours to the country at the world and Olympic levels.
Tanzania was formed by the union of two states of Tanganyike and Zanzibar. It has breathtaking landscapes including Mount Kilimanjaro (19, 341 ft), the largest lake of Africa Lake Victoria, the deepest lake of Africa Lake Tanganyika and world famous Serengeti National Park.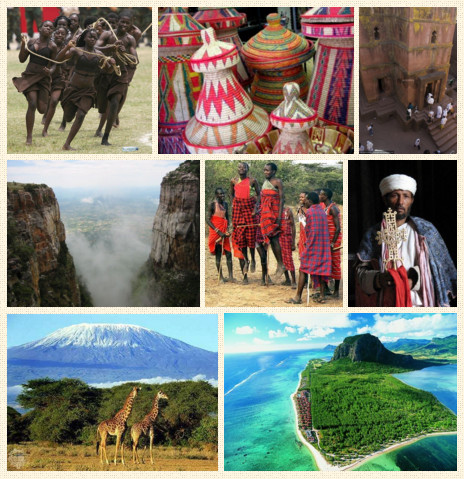 Art is an everyday part of African culture. The world famous refined arts of Tingatinga and Makonde are the popular African paintings painted with enamel paints on canvas. Another significant country is Sudan, the largest country of Africa. Nestled on the shores of river Nile and the Lingua-Franca of Sudan is a variant of Arabic called Juba Arabic.
Majestic Middle East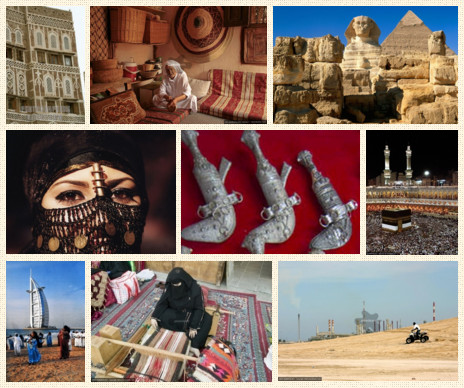 The Middle East is built on a magnificent legacy of civilizations dating back to ancient times. Science, arts, written language, mathematics, a legal system, and other hallmarks of civilization flourished in ancient Sumer, Persia, Egypt, and other parts of the Middle East, leaving a lasting influence on the later cultures of Greece and Rome. Today, the Middle East continues to offer the world a rich cultural contribution, as home to three major world religions, a vibrant entertainment industry, a fascinating tradition of folkloric music and dance, and a growing economic power base.
The unique features of some Middle Eastern countries are truly exceptional. Take Bahrain, for instance. The people of Bahrain are born merchants. This adds to its strategic location, on the great trade routes of antiquity with good natural harbours and abundant fresh water. Also, the village of Karbadad is famous for its basket weaving. Qatar has a Bedouin culture, wherein Sadu weaving is a way of life. The age old tradition of using colours from plants and root dyes has been replaced by the contemporary style of achieving brilliant red by using chemical dyes. The medium has changed but the beauty is intact. The sand dunes and sea together have made Qatar, an ideal lifestyle destination for sports and leisure activities such as sand mobiking, sand skiing and swimming.
The region transformed by the discovery of oil, is the famous United Arab Emirates. The lifestyles changed overnight and the villages turned into sleek towns full of high rises. Burj Al Arab Hotel in Dubai is the only 7 star Hotel of the world. But the region has not forgotten its roots. Souqs, the traditional Arab bazaars still exist and are brimming over with everything from live stock to gold. One of the world famous weapons from Mascat is Kanjar, the traditional knife. Oman is the place where hospitality is an integral part of the culture and every visitor is greeted with a cup of Kahwa, and bowl of dates and Jeeralaban. Oman is identified by major landmarks such as Sultan Qaboos Grand Mosque in Muscat, Oman Sultnate, Muscat, Riyam Park Monument in the shape of a giant Censer and the giant clay jugs.
Yemen is renowned for its aesthetic architecture evident in the ancient cities of Sana, Shibam and Aden. The main meal of Yemen is Salta and Harisa. The most popular drink is Shay mint flavoured tea and coffee served sweet with ginger and other spices. Chewing Khat is a social custom among men and women of Yemen. Its famous weapon is Jambiya, a curved dagger often worn with a leather embroidered belt which displays the person's social status and the tribe to which he belongs.
Saudi Arabia is home to the two of the holiest Islamic sites, The Mecca and The Medina. After the rise of Islam, it was a custom to cover the kaba ah with a black cloth called Kiswah. Its weaving involves 100 skilled Arabian craftsmen. The verses of Quran are embroidered on it with gold and silver. It takes almost a year for this intricate creation. Iran, known for its beautiful carpets, is also one of the world's leading oil producers. It has two divine landmarks, namely Mashhad, the holiest cities of the Shias and Imam Razza Shrine.
Speak of Egypt and the famous Giza Pyramid Complex and The Great Sphinx comes to mind. Egypt is a land bridge between Africa and Asia and trans-versed by a navigable water way, the famous Suez Canal which connects the Mediterranean Sea with the Indian Ocean via the Red Sea.
The Middle East section in Afro Asian Cultural Museum is just a glimpse of such matchless legacy spread in Iran, Iraq, Israel, Baharain, Kuwait, Lebanon, Oman, Egypt, Sudan, Saudi Arabia, United Arab Emirates and Yemen.
Sparkling South East Asia
Symbiosis houses students coming from South East Asian countries such as Indonesia, Laos, Singapore, Brunei, Thailand, Cambodia, Malaysia, Philippines and Vietnam. The region's chief cultural influences have been from China, India and West.
Angkor in Cambodia was 'a city within city' and was called Cambodia's 'Lost City'. It had remained abandoned for more than four hundred years. Angkor had Khmer Civilization and the city was dedicated to the Hindu God Vishnu. Today, it's the world's No. 1 tourist destination. The small country of Indonesia has the world's highest volcanic activity in the volcanoes of Mount Semaru and Mount Bromo. The Indonesian Islands were at cross roads in the spice trade that extended from Arabia to China.
Buddhism is prominent in Thailand, a striking blend of golden spiked temples, majestic ruins of ancient temples and modern high rise buildings. The combination leaves the onlooker spellbound. Thai food, where fish and the shrimp are the main stays, is highly popular worldwide. Along with a lot of other aspects, the Malaysian culture is famous for Wayang Kulit, the shadow puppeteering with allude to the great Hindu epic, Ramayana.
Every single South East Asian country has a speciality. Brunie Darussalam has in store, the richest traditional cultural heritage of the Malay world. Manila, the capital of Philippines is regarded as the Pearl of the Orient due to its setting and architecture. China is the world's highest populated country, with exotic landmarks such as the Forbidden City, Bell Tower, Memorial Arch of Golden Horse, The Imperial Palace and The Palace of Heaven at Beijing. China is almost synonymous with the Great Wall of China, one of the seven wonders of the world. Chinese cuisine is loved the world over.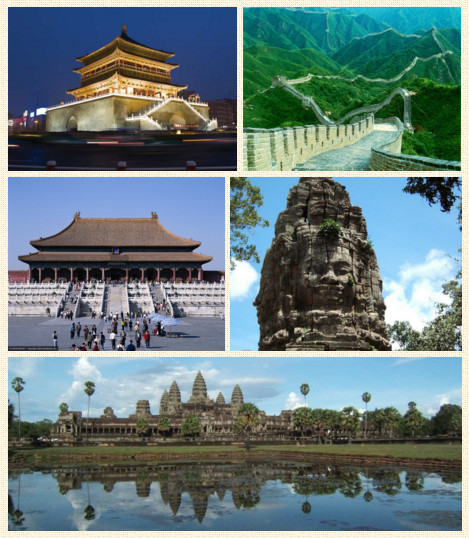 The cultural and culinary richness of South East Asia is well known. Dance is an integral part of its culture. Traditional music in Southeast Asia is as varied as its many ethnic and cultural divisions. The South East Asian section in the museum is a stunning collection of various cultural emblems.
India, Nepal & Sri Lanka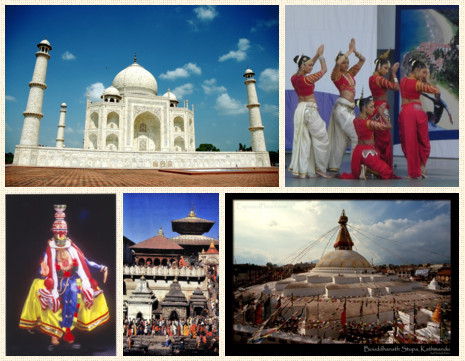 Countless languages, matchless culinary delights, numerous traditions, diverse cultures, exotic destinations… with all this and much more, India is simply incredible. Buddhist and Hindu religion has spread across India. This second largest democracy in the world is also a colorful collage of cultures, festivals and traditions.
On the shores of Yamuna stands the proud Taj Mahal, one of the seven wonders of the world. In fact, India is a mini world in itself. Mahatma Gandhi, the Father of the Nation is respected as an epitome of values such as Nonviolence and Truth, worldwide.
Sri Lanka is a strategic Link between West Asia and South East Asia. Its tropical forests, beaches, landscapes and its rich cultural heritage make it a wonderful tourist destination. Nepal in South Asia is known for its exquisite natural beauty, with the iconic Himalayas running across the northern and western part of the country.
The Afro Asian Cultural Museum has in store some rare and beautiful treasures from these three neighboring countries.
North East Asia

Japan is home to a unique culture, an interesting and intriguing mix of samurai, ikebana, origami, tea ceremony, Japanese garden, sumo, kimono and much more. The traditional arts of Japan offer an opportunity to experience something truly exotic or find inner calm. South Korea is regarded as one of the 'Four Asian Tigers'. It is the world's second fastest growing economy. Its porcelain pottery is stunning. The famous martial art Taekwondo originated in South Korea. The family is the most important part of Korean life. Japanese and South Korean Artifacts have a place of pride in Afro Asian Cultural Museum.
Come, bask in the glory.
Take home a beautiful memory!
The Symbiosis Society's Afro Asian Cultural Museum is looking forward to a glorious future. Ambitious expansion plans are on the chart. More and more artifacts are coming our way.
And we have a vision to create a place which will leave a long lasting imprint on your mind. Come, have a glimpse of our exclusive world. Relish a slice of rich global culture and cherish the memory forever!
- Mrs. S.S. Mujumdar
Hon. Director