Laos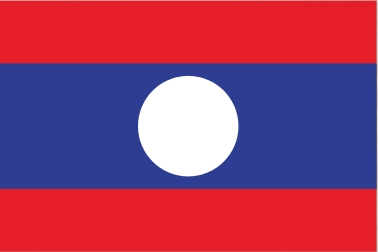 National Flag
Laos officially the Lao People's Democratic Republic, is a country in southeast Asia, bordered by Burma (Myanmar) and China to the northwest, Vietnam to the east, Cambodia to the south, and Thailand to the west. In the Lao language, the country's name is "Meuang Lao". The Imperial French, who made the country part of French Indochina in 1893, spelled it with a final silent "s", i.e."Laos".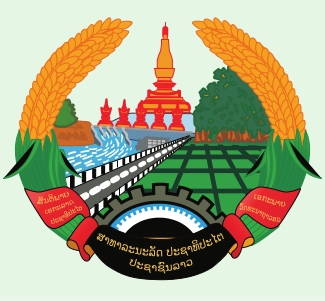 Emblem
Profile:
Official Name - Lao People's Democratic Republic
Nationality - Laotian, Lao
Chief City - Vientiane
Location - Southeast Asia
Population - 6,521,998 (106th)
Area - 236,800 km (83th)
Official Languages - Lao
Government - Socialist Republic
Currency - Kip (LAK)
Independence - 19th July 1949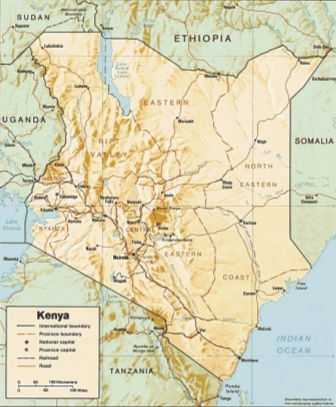 Map
---
national anthem
Transliteration of Lao lyrics
Xat Lao Tang Tae Day Ma, Lao Thook Thuan Na Xeut Xoo Soot Chay,
Huam Haeng Huam Chit Huam Chay, Samakkhi Kan Pen Kamlang Diao.
Det Diao Phom Kan Kao Na, Boo Xa Xu Kiat Khong Lao,
Song Seum Xay Sit Pen Chao, Lao

Thook Xon Phao Sameu Pab Kan.
Bo Hay Fung Chackkaphat, Lae Phuak Khay Xat Khao Ma Lob Kuan,
Lao Thang Muan Xoo Ekkalat, Itsalaphab Khong Xat Lao Vai,
Tatsin Chay Soo Xing Ao Xay, Pa Xat Kao Pay Soo Khuam Vatthana.

TRANSLATION
For all time the Lao people have glorified their Fatherland,
United in heart, spirit and vigour as one.
Resolutely moving forwards,
Respecting and increasing the dignity of the Lao people
And proclaiming the right to be their own masters.

The Lao people of all origins are equal
And will no longer allow imperialists and traitors to harm them.
The entire people will safeguard the independence
And the freedom of the Lao nation.
They are resolved to struggle for victory
In order to lead the nation to prosperity.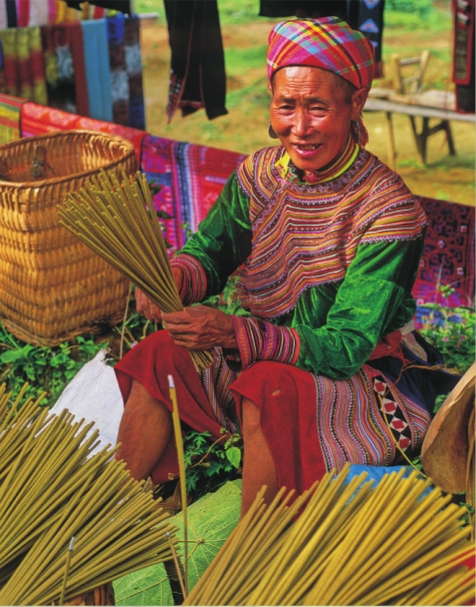 Lao old woman with her Traditional Clothes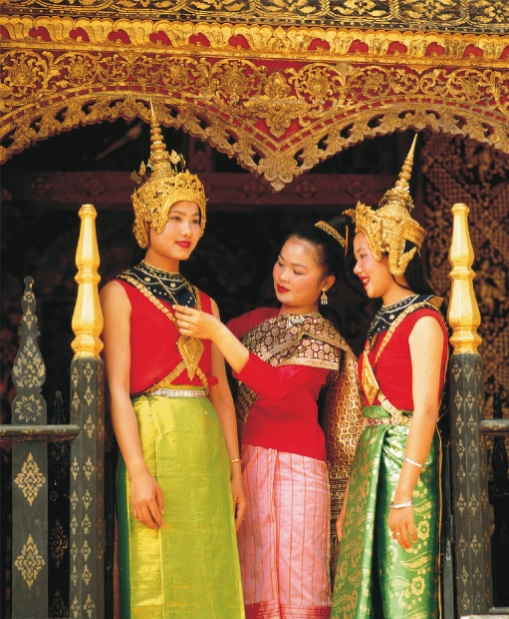 Traditional Dancer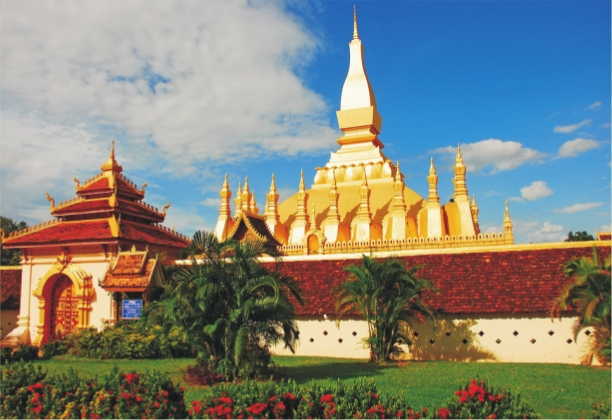 Pha That Luang
climate
The climate is tropical and monsoonal. There is a distinct rainy season from May to November.
economy
The Lao economy is heavily dependent on investment and trade with its larger and richer neighbours, Thailand, Vietnam, and especially the north, China. Rice dominates agriculture, with about 80% of the arable land area used for growing rice. The economy receives aid from international investment in food processing and mining, most notably of copper and gold. Tourism is the fastest growing industry in Laos. Laos has historically been involved with production of drugs, notably Opium.
Culture
Theravada Buddhism is a dominant influence in Lao culture. It is reflected throughout the country from language to the temple and in art, literature, performing arts, etc.Laotian music is dominated by its national instrument, the khaen, a type of bamboo pipe that has prehistoric origins.
people
Most Laotians are rice farmers who live in villages along the Mekong River and follow a traditional way of life. The villagers live in bamboo houses with thatched roofs. The houses are built on stilts to protect them from flooding during the rainy season. Most Laotians are Buddhists, and village life centers around the pagoda (temple), where a Buddhist monk conducts religious ceremonies. The pagoda may also be used as a schoolhouse, or as a meeting place. The official and dominant language is Lao, a tonal language of the Tai linguistic group. The written language is based on Khmer writing script. French, still common in government and commerce, is still studied by many. Of the people of Laos 67% are Budhhist 1.5% are Christian, and 31.5% are other or unspecified.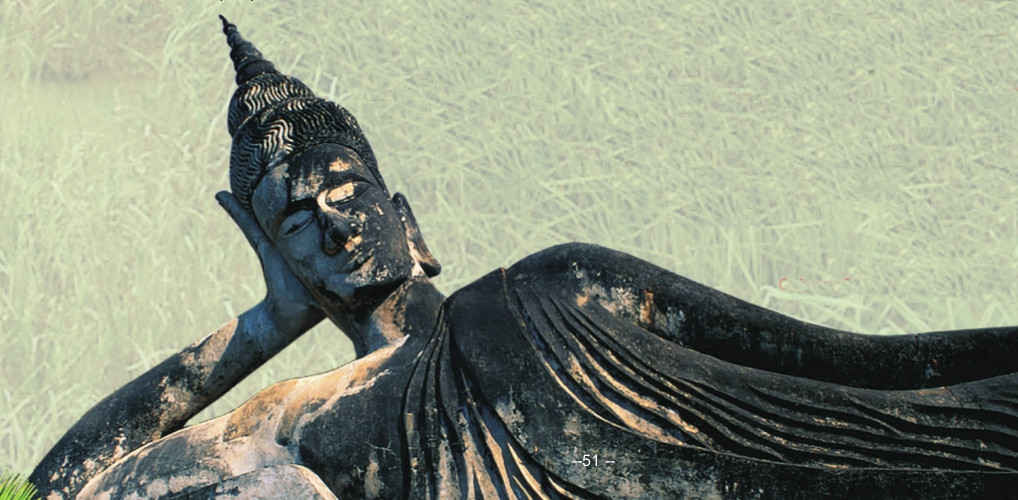 Only one Statue of World Buddha in Rest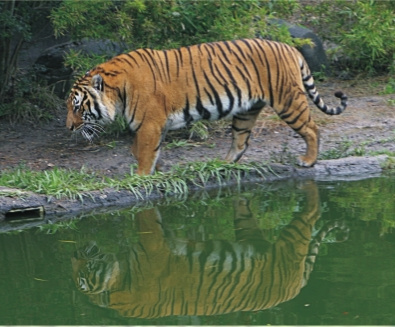 Laos Tiger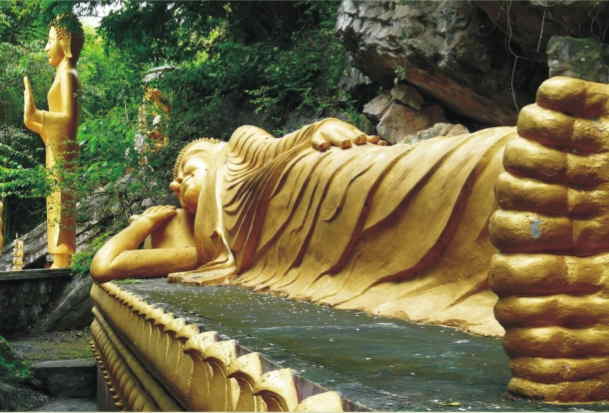 Sleeping Buddha Statue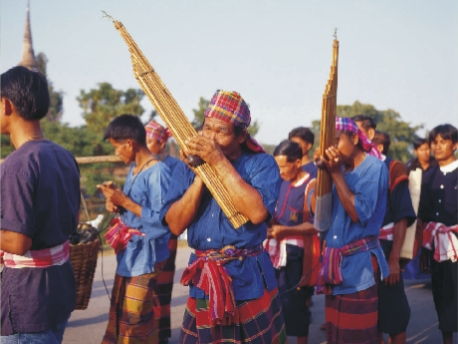 Laos musical Instrument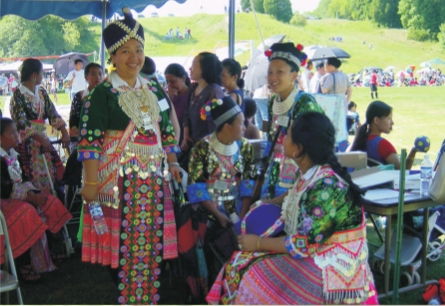 Hmong Meeting Festival