South Korea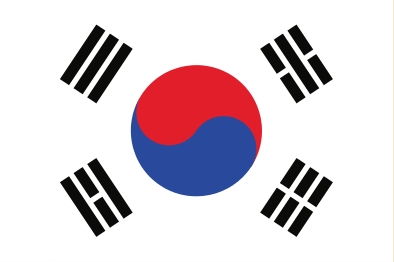 National Flag
South Korea, officially the Republic of Korea and often referred to as Korea, is a country in East Asia, occupying the southern half of the Korean Peninsula. Also known as the "Land of the Morning Calm", it is neighbored by China to the west and Japan to the east, and borders North Korea to the north. Its capital is Seoul, the second largest metropolitan city in the world and a major global city. South Korea lies in a temperate climate region with a predominantly mountainous terrain. Its territory covers a total area of 100,032 square kilometers and has a population of almost 50 million, making it one of the most densely populated regions in the world.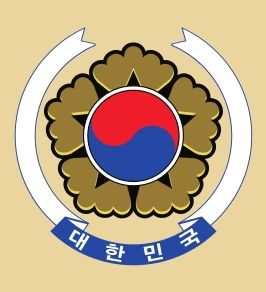 Emblem
Profile:
Official Name - Republic of Korea
Nationality - South Korean
Chief City - Seoul
Location - East Asia
Population - 48,379,392 (26th)
Area - 100,032 km (108th)
Official Languages - Korean
Government - Semi-presidential republic
Currency - South Korean won (KRW)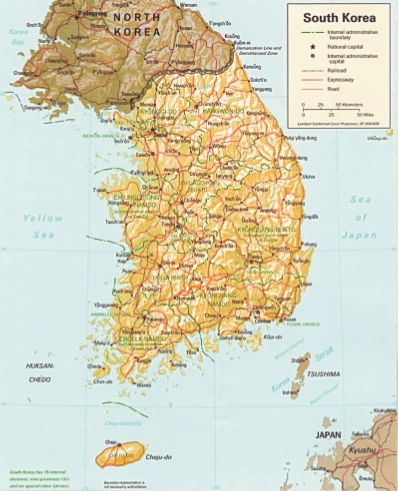 Map
---
national anthem
Donghae mulgwa
Baekdusani mareugo
daltorok
Haneunimi bouhasa
urinara manse
Mugunghwa samcheonlli
hwaryeogangsan
Daehansaram
daehaneuro giri
bojeonhase
Namsan wie jeo sonamu
cheolgabeul dureun deut
Baram seori
bulbyeonhameun uri
gisangilse
Mugunghwa samcheonlli
hwaryeogangsan
Daehansaram
daehaneuro giri
bojeonhase

Ga-eul haneul
gonghwalhande nopgo
gureum eopsi
Balgeun dareun uri
gaseum
ilpyeondansimilse
Mugunghwa samcheonlli
hwaryeogangsan
Daehansaram
daehaneuro giri
bojeonhase
I gisanggwa i mameuro
chungseong-eul dahayeo
Goerouna jeulgeouna
nara saranghase
Mugunghwa samcheonlli
hwaryeogangsan
Daehansaram
daehaneuro giri
bojeonhase

TRANSLATION
Until the day when the
East Sea's waters and Mt.
Baekdu are dry and worn away,
God protect and preserve
us. Long live our nation!
Three thousand Li of
splendid rivers and
mountains, filled with
Roses of Sharon;
Great Korean People,
stay true to the Great Korean way.
The pinetree atop
foremountain stands
firmly unchanged under
wind and frost as if
wrapped in armour, as is
our resilient spirit.
Three thousand Li of
splendid rivers and
mountains, filled with
Roses of Sharon;
Great Korean People,

stay true to the Great Korean way.
Autumn sky is void and
vast, high and cloudless,
the bright moon is our
heart, undivided and true.
Three thousand Li of
splendid rivers and
mountains, filled with
Roses of Sharon;
Great Korean People,
stay true to the Great Korean way.
With this spirit and this
mind, give all loyalty,
in suffering or in joy, love
the country.
Three thousand Li of
splendid rivers and
mountains, filled with
Roses of Sharon;
Great Korean People,
stay true to the Great Korean way.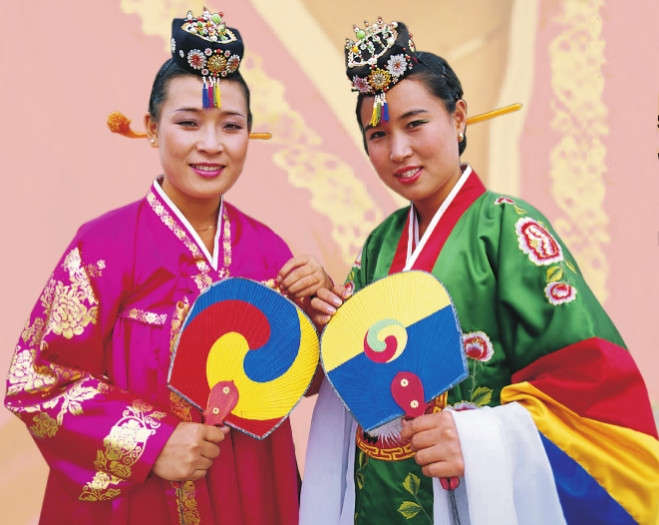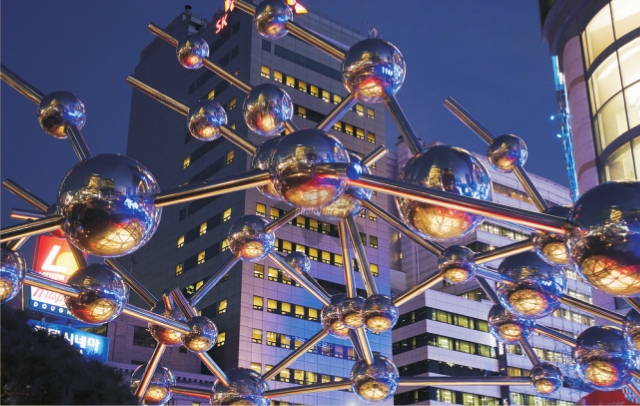 Modern Architecture
climate
South Korea has a humid continental climate and a humid subtropical climate, and is affected by the East Asian monsoon, with precipitation heavier in summer during a short rainy season called jangma. which begins end of June through the end of July. Winters can be bitterly cold, in Seoul, the average January temperature range is -7 °C to 1 °C (19 °F to 33 °F), and the average August temperature range is 22 °C to 30 °C (71 °F to 86 °F). Winter temperatures are higher along the southern coast and considerably lower in the mountainous interior.
economy
South Korea has been the world's second fastest growing economy for over four decades. For example, in 1957 South Korea's annual per capita GDP was comparable to that of Ghana, and by 2008 it was 17 times as high as Ghana's. South Korea's transformation into a developed country during the latter half of the 20th century has been termed the Miracle on the Han River, and South Korea is considered one of the "Four Asian Tigers".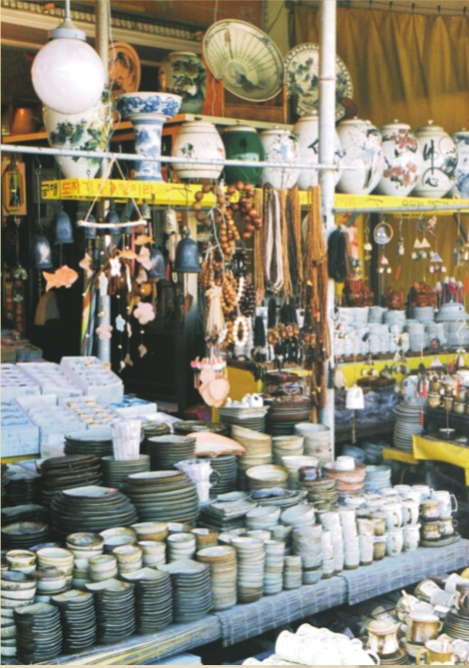 Ceramics of South Korea
culture
South Korea shares its traditional culture with North Korea, but the two Koreas have developed distinct contemporary forms of culture since the peninsula was divided in 1945. The South Korean actively encourages the traditional arts, as well as modern forms, through funding and education programs. The industrialization and urbanization of South Korea have brought many changes to the way Korean people live. Changing economics and lifestyles have led to a concentration of population in major cities, especially the capital Seoul, with multi-generational households separating into nuclear family living arrangements.
high-tech industries
South Korea has a high-tech and futuristic infrastructure,[80] with the world's highest broadband internet access per capita, and is a world leader in innovation.
ceramics
The celadon wares of the koryo Dynasty (918-1392), with their unique glaxe and their blue tinted jade-green hue, a trade sectret, are smoothly naturally curved. Their inlaid black and white patterns have won world wide esteem. The punch'ong ware of the early part of the choson dynasty (1392-1910) have a remarkable liveliness and freshness of spirit. The white porcelains of that dynasty are unpretentious, almost naïve, but of great charm.
sports
Koreans are enthusiastic about many sports, not only taekwando or soccer but also basket ball, ssirum- traditional wrestling and various folk games and outdoor sportslike mountaineering, rock climbing and yatching.
taekwando
Taekwando is an extraordinarily graceful form of martial defence, a tribute to perfectibility of timing, breathing, concentration and mental decesiveness. More art than sport, the name teakwando is derieved from tae, to strike with the foot, kwon to strike with hand and do, theway or art.It is characterized by the fist, high and spinning kicks.It not only strengthens the physique, but also cultivates character via physical and mental training .Mordern taekwando has been influnced by many other martial arts like judo, karate and kendo.
art
Koreans have traditionally nutured an artistic sensibility, which reflects and harmonizes with the beauty of the natural environment. Their folk arts have been influenced by Buddhism and Confucianism but derive most directly from native shamanism, whose main themes are every day life, including work and religion. The Korean aesthetic has a characteristic of gentteness often expressed in elegant curves, like the upward sweep of the traditional tilt roof.
patterns
Koreans have a strong attachment to natural patterns such as the sun, the moon, clouds, mountains and plants. They favour the gentle curves of the traditional roof, sleeves and skirts and pottery. According to folk beliefs, each pattern has symbolic meanings. The taeguk, or two interlocking comma, shapes, symbolizes the harmony of yin and yang, the dual cosmic forces; the ten longevity signs health and long life; the dragon, royal sovereignty; flowers and fruits, happiness and fecundity.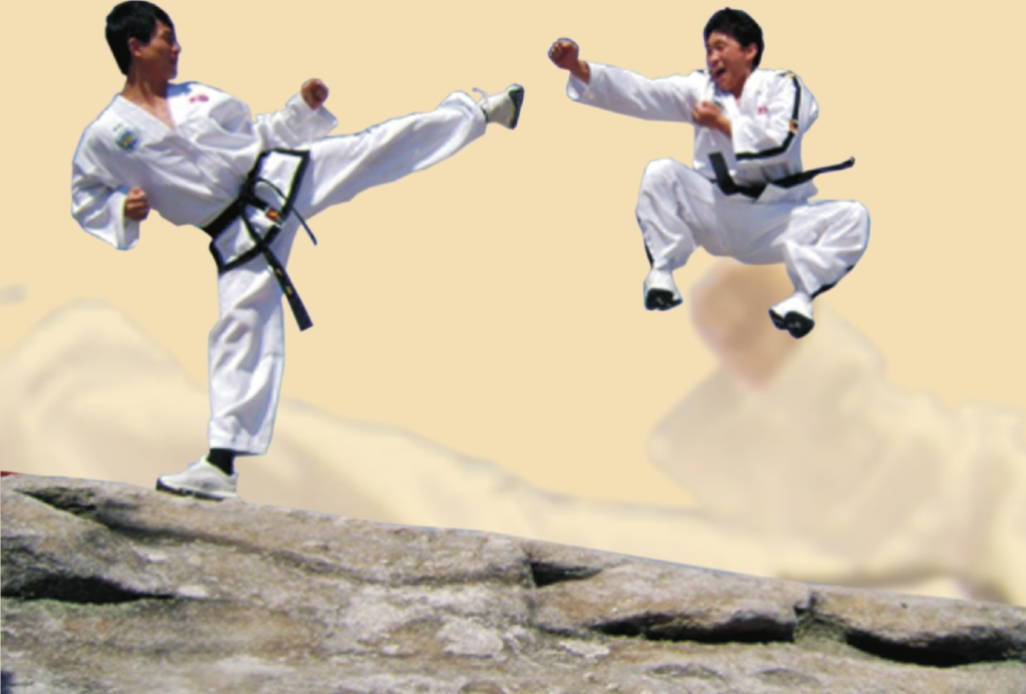 Teak Won Do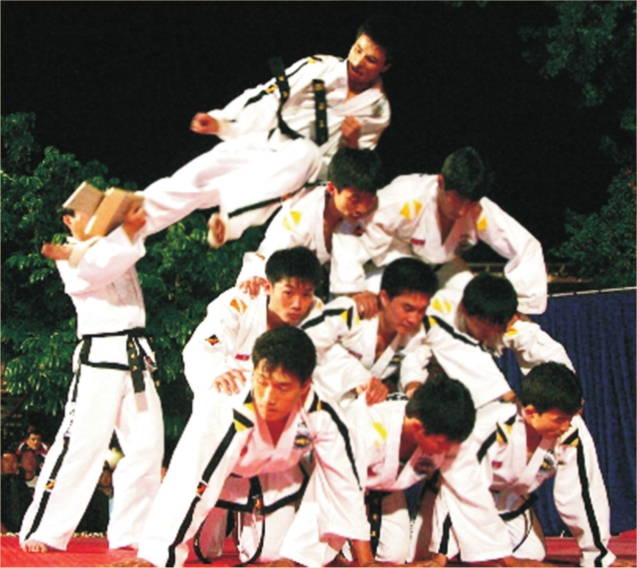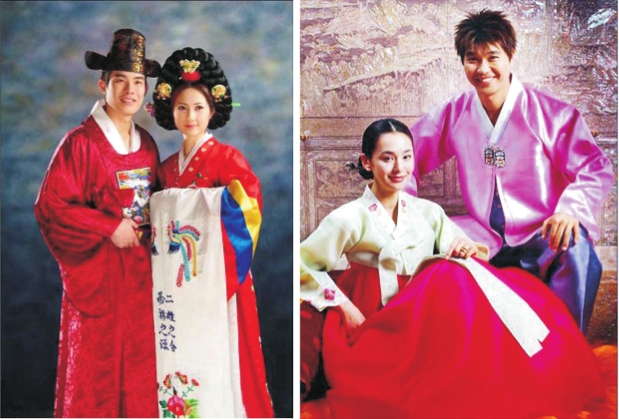 Couple in Traditional Dress
clothing
Hanbok is the comprehensive term used to describe Korean traditional clothing. The most notable features of hanbok are the lines. Both straight and curved of the design women wear and elegant combination of short jackets and long skirts. While men wear loose trousers, Couple in Traditional Dress a jacket and avest, all beneath an outer coat. The colour, material and manner of wearing hanbok differs according to seasons and the social status of the wearer. Recently hanbok design has been adapted to better suit the modern livingand are still worn today for traditional ceremonies and festivities. Many people particularly in the cities, wear western style clothing due to the exposure through trade and political relations with western nations. However, people in the countryside particularly women, still prefer traditional dresses.
dance and drama
Throughout their history Koreans have had a deep love of music, dance and drama . Traditional Korean styles of dance include shamanist exorcism dances, Buddhist monk dances, Confucian ritual dances, court ceremonial and entertainment dances, and mask dance. All Korean dances employ certain characteristic steps such as walking and turning on the heel with swinging arms. There is unacrobatic economy of movement, with occasional suspended poses. Drama as such was the least developed of the traditional folk arts, although much of the music and dance had a strong dramatic component most plays were derived from shamanist rituals and from mask dances. Another form of popular drama are puppet shows. Today, perhaps the dramatic medium in which korea is having the greatest impact on the world culture is the cinema, a number of films on traditional and modern themes having won international prizes.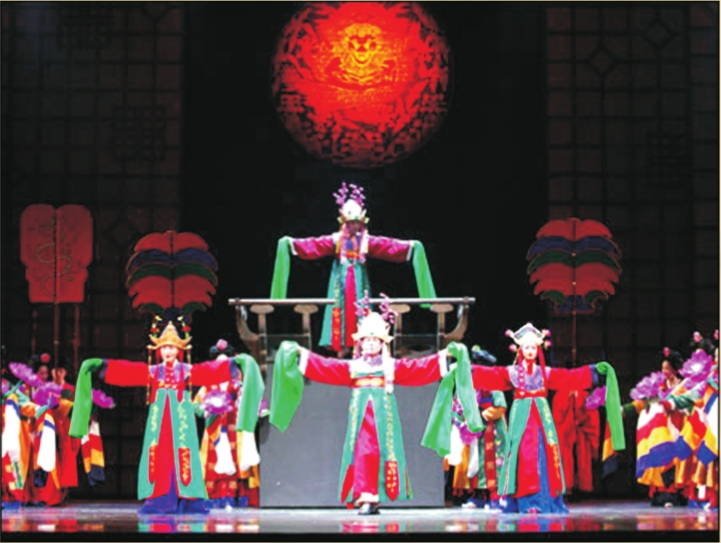 Traditional Dance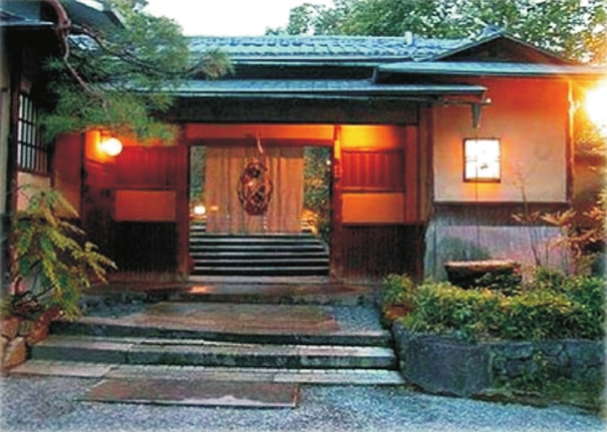 Traditional Architecture
architecture
Korean architecture on a ground scale can be seen in the audience halls and pavilions of royal palaces such as kyong bokkung, Toksugund and the worship walls of Buddhist temples such as Haeinsa and pulguksa. The temples typically contain impressive stone pagodas of austere beauty. Traditional Korean houses were usually constructed around a courtyard and were built of brick or stone and had roofs of thatch or tile. They were designed not only for protection but also for appearance and they fitted harmoniously with their surrounding. Modern architecture has been greatly influenced by western models, as a glance at the modern skyline of seoul reveals but there are many creative work's with distinctive Korean quality.
language & script
The Korean lanuage belongs to theUral-Altiac family. Mordern Korean is the direct descendent of the language of the Shilla kingdom. Educated Koreans had written in Chinese or written Korean by means of Chinese characters till the Korean alphabet known as hanguel was invented by the team of scholars under the direction of king Sojon the great ( 1418- 1450 ). It made written communication-which had been the privilege of the scholarly class possible among all classes for the first time. It's invention also made the development of indigenuous Korean literature possible. Having a single language and a single culture intertwining shamanist, Buddhist and Confucian stands around a humanistic core that has been a great unifying force for the Korean people. It has also been a source of continuity in the face of the introduction of western culture and the transformation from a stratified to a democratic society and from an agricultural to an industrial economy.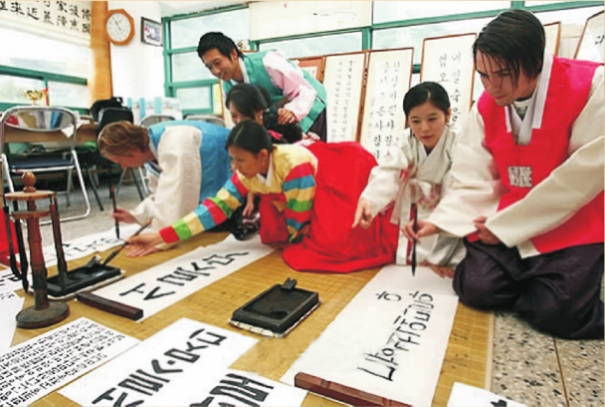 Korean Calligraphy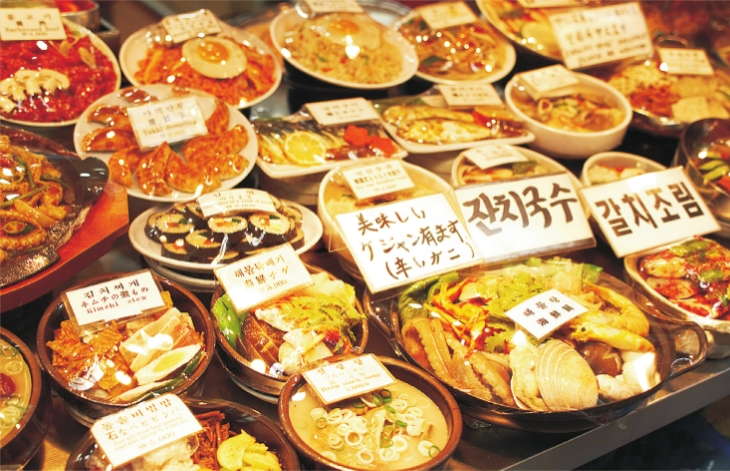 Korean Food Displayed in Open Street Market
cuisine
It is the sense of food as medicine and long term protection, that has governed the evolution of Korean diet. Traditionally Koreans have regarded breakfast as their most important meal of the day, lunch Korean Food Displayed in Open Street Market being a light meal and supper a moderate one. A typical south Korean meal consists of a bowl of rice, a bowl of soup and side dishes of meat or fish and of vegetables. One or more of the vegitable side dishes will be a form of "Kinchi" peppery pickled cabbage, radish or cucumber. Herbal medicines, the geography of korea and Buddhism have exerted a major influence on Korean cuisine.