Tanzania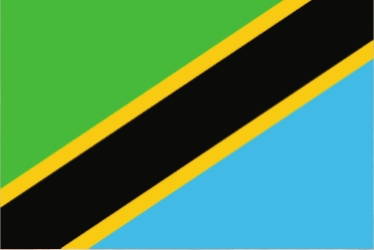 National Flag
The United Republic of Tanzania is a country in central East Africa bordered by Kenya and Uganda to the north, Rwanda, Burundi and the Democratic Republic of the Congo to the west, and Zambia, and Mozambique to the south. The country's eastern borders lie on the Indian Ocean. variety of animals roam across the country's national parks. This wildlife includes huge herds of zebras and gnus, or wildebeests, as well as elephants, giraffes, leopards, and lions. Since 1996, the official capital of Tanzania has been Dodoma. The major coastal city; Dares Salaam had been the country's political capital and the principal commercial city of Tanzania. United Republic of Tanzania is formed by union of two states Tanganyika and Zanzibar in April 26, 1964.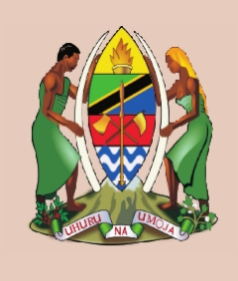 Emblem
Profile:
Official Name - United Republic of Tanzania
Nationality - Tanzanian
Chief City - Dodoma
Location - Central East Africa
Population - 40,000,000 (32nd)
Area - 945,203 km (27th)
Official Languages - Swahili & English
Government - Republic
Currency - Tanzanian Shilling (TZS)
Independence - 9th December 1961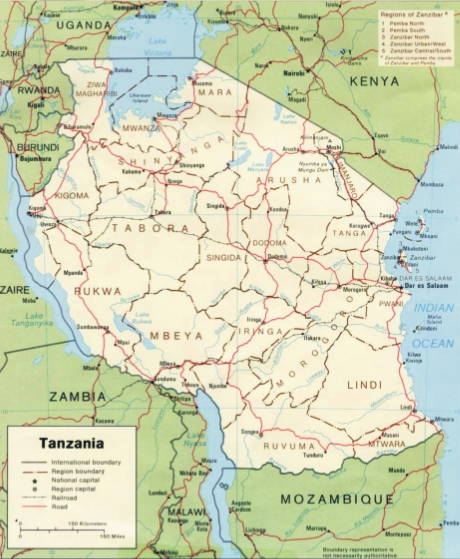 Map
---
national anthem
Mungu ibariki Afrika
Wabariki Viongozi wake
Hekima Umoja na Amani
Hizi ni ngao zetu
Afrika na watu wake.
CHORUS:
Ibariki Afrika(x2)
Tubariki watoto wa Afrika.

Mungu ibariki Tanzania
Dumisha uhuru na Umoja
Wake kwa Waume na Watoto
Mungu Ibariki Tanzania na
watu wake.
CHORUS:
Ibariki Tanzania(x2)
Tubariki watoto wa Tanzania.

TRANSLATION
God Bless Africa.
Bless its leaders.
Wisdom Unity and Peace
are our shield:
Africa and its people!
CHORUS:
Bless Africa,
Bless Africa,
Bless us, the children of Africa!
God Bless Tanzania.

Grant eternal Freedom and Unity
To its women, men and children.
God Bless Tanzania and its
People!
CHORUS:
Bless Tanzania,
Bless Tanzania,
Bless us, the children
of Tanzania!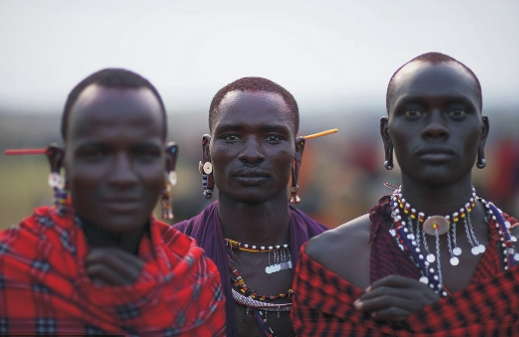 Masai men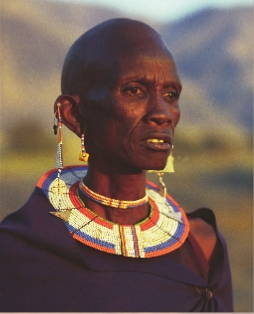 Cattle herd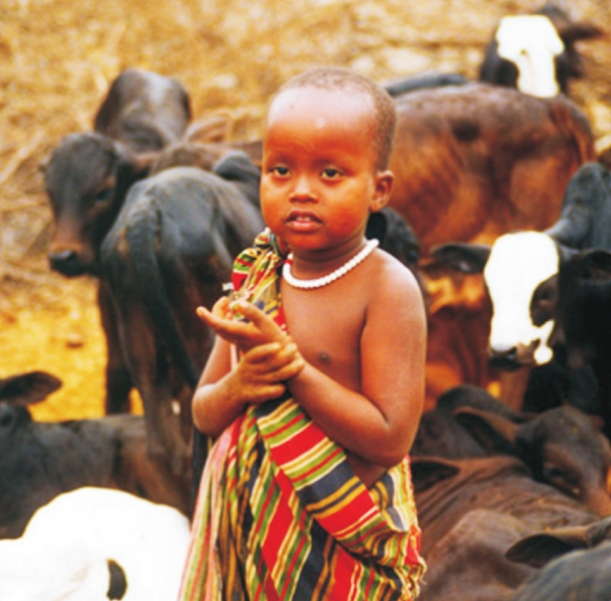 Children pounding grain
geography
Tanzania is mountainous in the northeast, where Mount Kilimanjaro, Africa's highest peak, is situated. To the north and west are the Great Lakes; Lake Victoria (Africa's largest lake) and Lake Tanganyika (Africa's deepest lake, known for its unique species of fish). The eastern shore is hot and humid, with the island of Zanzibar lying just offshore. Tanzania contains many large wildlife park including the famous Ngorongoro Crater, Serengeti National Park Selous Game Reserve and Mikumi National Park. Gombe National Park.
climate
Tanzania has a tropical type of climate. In the highlands, temperatures range between 10 ̊C and 20 ̊C during cold and hot seasons respectively. Where the white-bearded wildebeest (Connochaetes taurinus mearnsi) and other bovids participate in a large-scale annual migration.
religion
Tanzanias population has been estimated to consist of roughly one third each Muslims, Christians and followers of indigenous religious groups.
economy
The economy is mostly based on agriculture, which accounts for more than half of the GDP. The major food crops include bananas, cassava, corn, millet, rice, sorghum, wheat, and vegetables. The nation has many natural resources including gold and natural gas. Tanzania is also known for the Tanzanite gemstones. The Country also generates income with a large tourism sector that plays a vital part in the economy. Tanzania's export income comes from trading coffee, cotton, tea, and tobacco. A Zanzibar village is surrounded by lush vegetation. Zanzibar's primary exports are cloves and clove oil, products of clove trees, one of the many spices that flourish in the island's tropical heat and humidity.
cuisine
One of the most popular meals among Tanzanians is ugali, a porridge made with corn The Masai raise cattle on the interior plateaus, and cows' milk is an important part of their diet.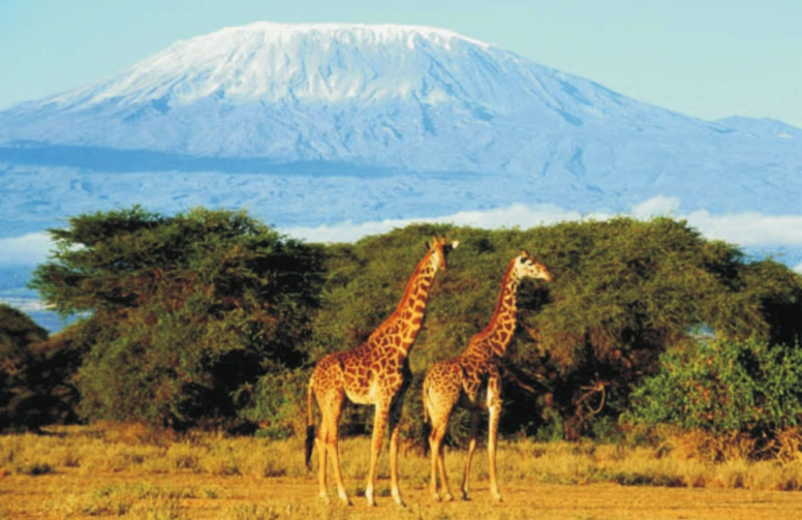 Mount kilimanjaro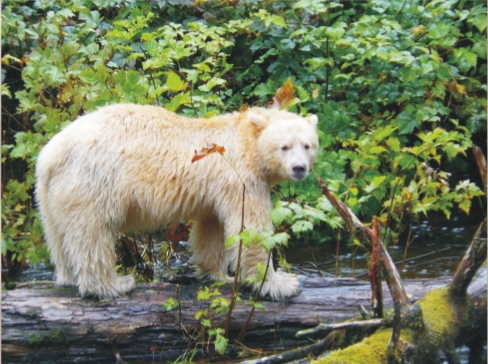 White bear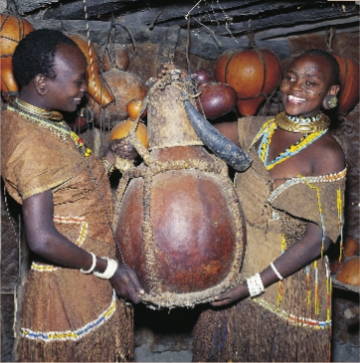 Datoga women carry from their home a large gourd
people
The Arab-African families and their settlements produced the Swahili culture. The Arabs bought and sold thousands of African slaves, and Zanzibar became a major slave market. Traditional clothing in Tanzania is a wrap-style garment for both men and women. Muslim men wear a flowing white robe called the Kanzu.
culture
Tanzania has remarkable position in art. Two styles became world known: Tingatinga and Makonde. Tingatinga are the popular African paintings painted with enamel paints on canvas. is both a tribe in Tanzania (and Mozambique) and a modern sculpture style.
languages
Tanzania has more than 126 ethnic groups and each ethnic group has its own language. Swahili is the de facto national language, used for inter- ethnic communication and for official matters. English, the language of colonial administration during the era of British rule, was still used for some official issues, and was thus considered de facto national language alongside Swahili. Other spoken languages are Indian languages, especially Gujarati, and Portuguese (both spoken by Mozambican blacks and Goans) and to a lesser extent French.