Zambia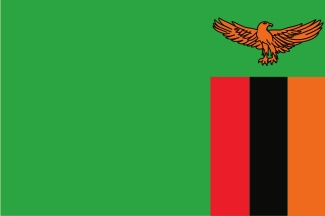 National Flag
The Republic of Zambia is a landlocked country in South Africa. The neighboring countries are the Democratic Republic of the Congo to the north, Tanzania to the north-east, Malawi to the east, Mozambique, Zimbabwe, Botswana, and Namibia to the south, and Angola to the West. The capital city is Lusaka, located in the southeast of the country. Zambia has been inhabited for thousands of years by hunter-gatherers and migrating tribes. On 24 October 1964, the protectorate gained independence with the new name Republic of Zambia, derived from the Zambezi River which flows through the country. Kenneth Kaunda, who led the movement that resulted in independence, served as president from 1964, when Zambia became independent, until 1991. Kaunda became known for his moderate policies.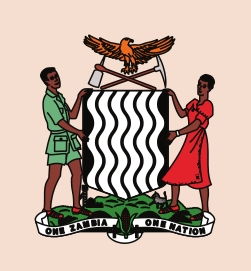 Emblem
Profile:
Official Name - Republic of Zambia
Nationality - Zambian
Chief City - Lusaka
Location - Southern Africa
Population - 11,668,000 (71st)
Area - 752,618 km
Official Languages - English
Government - Republic
Currency - Zambian kwacha (ZMK)
Independence - 24, October, 1964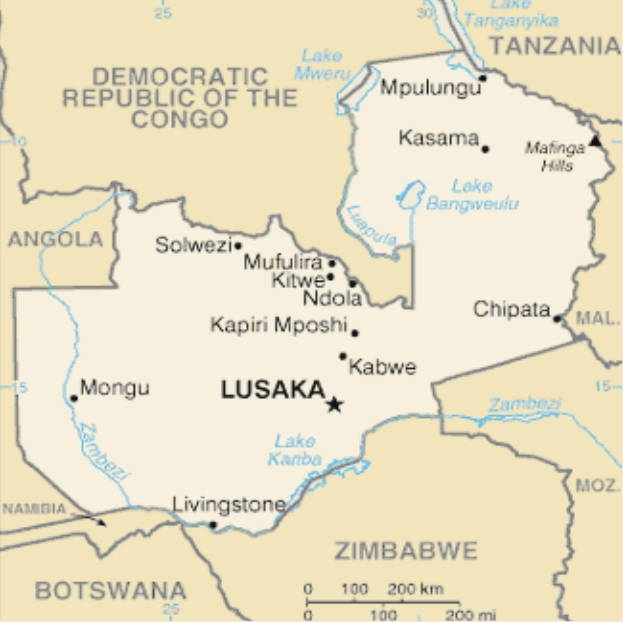 Map
---
national anthem
Lumbanyeni Zambia, no
kwanga,
Ne cilumba twange tuumfwane,
Mpalume sha bulwi twa cine,
Twaliilubula.
Twikatane bonse.
Bonse tuli bana ba Africa,
Uwasenaminwa na Lesa,
Nomba bonse twendele pamo,
Twaliilubula.
TRANSLATION
Twikatane bonse.
Fwe lukuta lwa
Zambia lonse,
Twikatane tubyo

mutende,
Pamo nga lubambe
mu mulu,
Lumbanyeni Zambia.
Twikatane bonse.
Lumbanyeni,
Lesa, Lesa, wesu,
Apale calo,
Zambia, Zambia,
Zambia.
Fwe bantungwa
Mu luunga lwa calo.
Lumbanyeni Zambia.
Twikatane bonse.

TRANSLATION
Stand and sing of Zambia, proud and free,
Land of work and joy in unity,
Victors in the struggle for the right,
We have won freedom's fight.
All one, strong and free.
Africa is our own motherland,
Fashion's with and blessed by God's
good hand,
Let us all her people join as one,
Brothers under the sun.
All one, strong and free.
One land and one nation is our cry,
Dignity and peace 'neath

Zambia's sky,
Like our noble eagle in
its flight,
Zambia, praise to thee.
All one, strong and free.
Praise be to God,
Praise be, praise be,
praise be,
Bless our great nation,
Zambia, Zambia, Zambia.
Free men we stand
Under the flag of our land.
Zambia, praise to thee!
All one, strong and free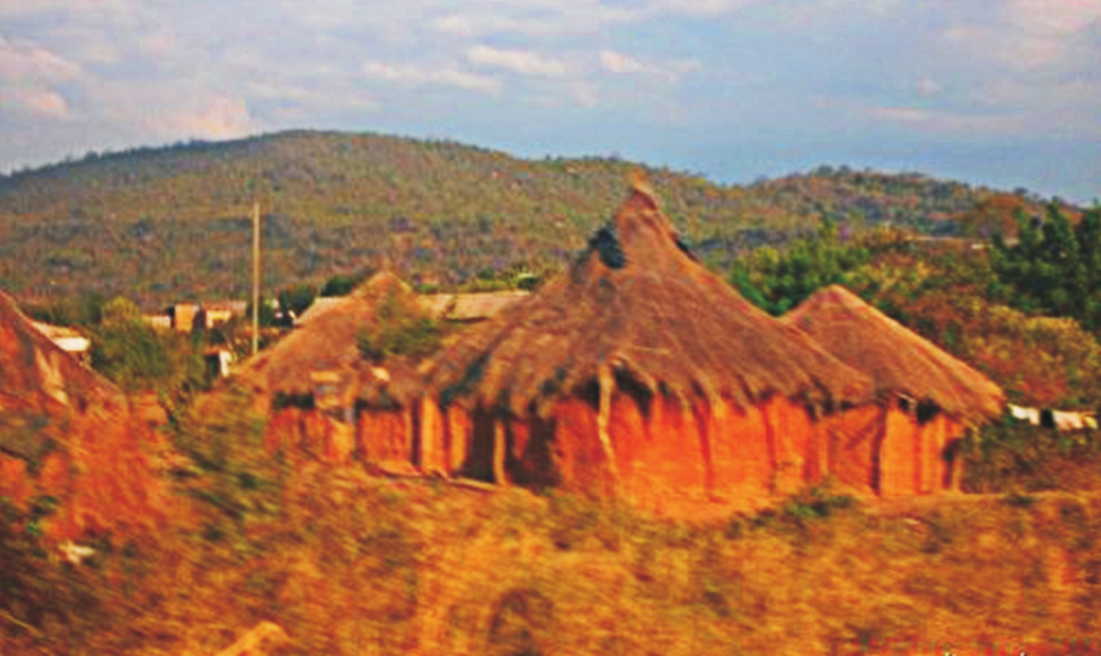 African-houses-in-zambia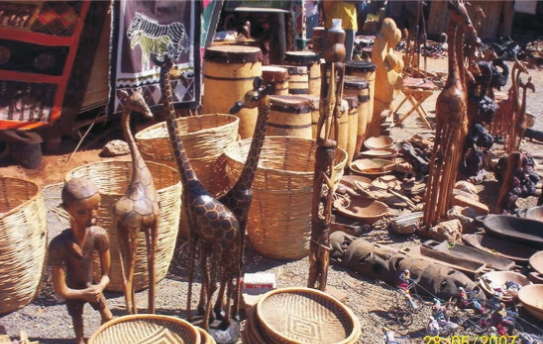 Zambian handicrafts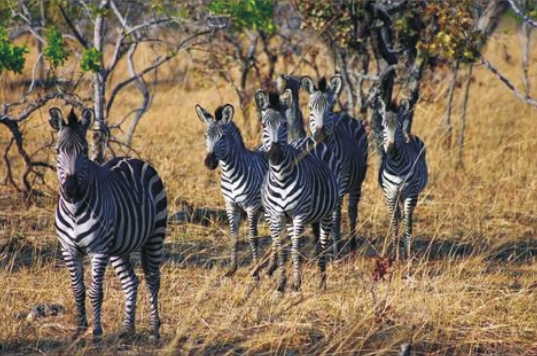 Kafue National Park
history
David Livingstone, who had a vision of ending the slave trade through the "3 C's" (Christianity, Commerce and Civilization). He was the first European to see the magnificent waterfalls on the Zambezi River in 1855, naming them Victoria Falls after Queen Victoria. Locally the falls are known "Mosi-oa-Tunya" or "(the) thundering smoke". The Zambezi falls about 100 meters (328 ft) over the 1.6 km (1 mile) wide.
languages
The official language of Zambia is English, which is used to conduct official business and is the medium of instruction in schools. Commonly-spoken indigenous languages number over seventy and include the : Lamba, Kaonde, Tumbuka, Ngoni, Ila, Senga etc. Zambia is drained by two major river basins: the Zambezi basin and congo
government
Zambian is a presidential representative democratic republic, whereby the President of Zambia is both head of state and head of government in a pluriform multi-party system.
climate
The climate of Zambia has humid subtropical climate with small stretches of semi- arid climate in the south-west and along the Zambezi valley.
people
The people live in villages of circular, grass-roofed huts and go out to the surrounding land to raise their food crops. Corn is the country's most important farm product and the people's main food. A favorite dish is nshima & thick corn porridge. Other crops include cassava, coffee, millet, peanuts, sorghum, sugar cane, and tobacco. Zambia is officially a Christian nation, but a wide variety of religious traditions exist.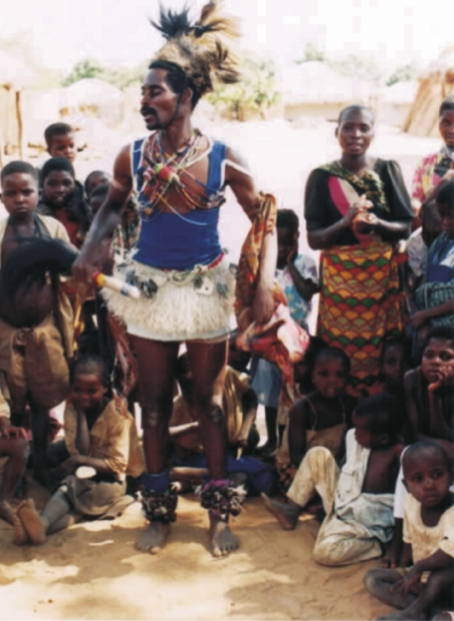 phiri dancing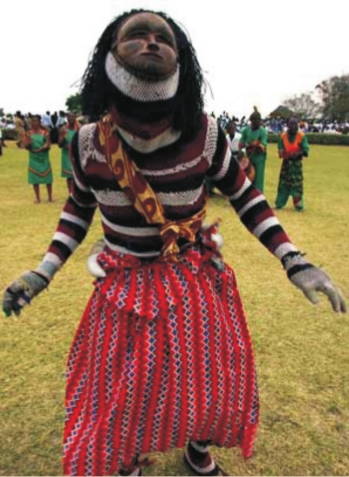 culture
The culture of Zambia is mainly indigenous Bantu culture mixed with European influences. Prior to the establishment of modern Zambia, the indigenous people lived in independent tribes, each with their own ways of life. Popular traditional arts are mainly in pottery, basketry (such as Tonga baskets), stools, fabrics, mats, wooden carvings, ivory carvings, wire craft and copper crafts. Most Zambian traditional music is based on drums (and other percussion instruments) with a lot of singing and dancing.
sports
Today, the most popular sport in Zambia is football and the Zambia national football team has had its triumphant moments in football history.